How to get your Toddler to Help with Chores + Free Printable Chore Chart
This shop has been compensated by Collective Bias, Inc. and its advertiser. All opinions are mine alone. #ThinkOutsideTheWipe #CollectiveBias
With our new baby at home, I have been trying to find ways to keep our house tidy and keep Brody entertained. Combining the two has proven to be fun and helpful for both of us. At 2.5 years old, Brody is actually excited about helping us out. We have been trying to harness his helpfulness and use it to our advantage—especially when it comes to house cleaning!
Here is my step-by-step guide to getting your toddler excited about cleaning.
1. Clean with them.
For the longest time, I would be sitting on the couch or in the kitchen and asking Brody to please pick up his toys. He would refuse. I finally realized that if I would start cleaning with him, he would get excited and jump right in to help. Now he bounces right over when we pull out a spray bottle or a package of wipes to start cleaning.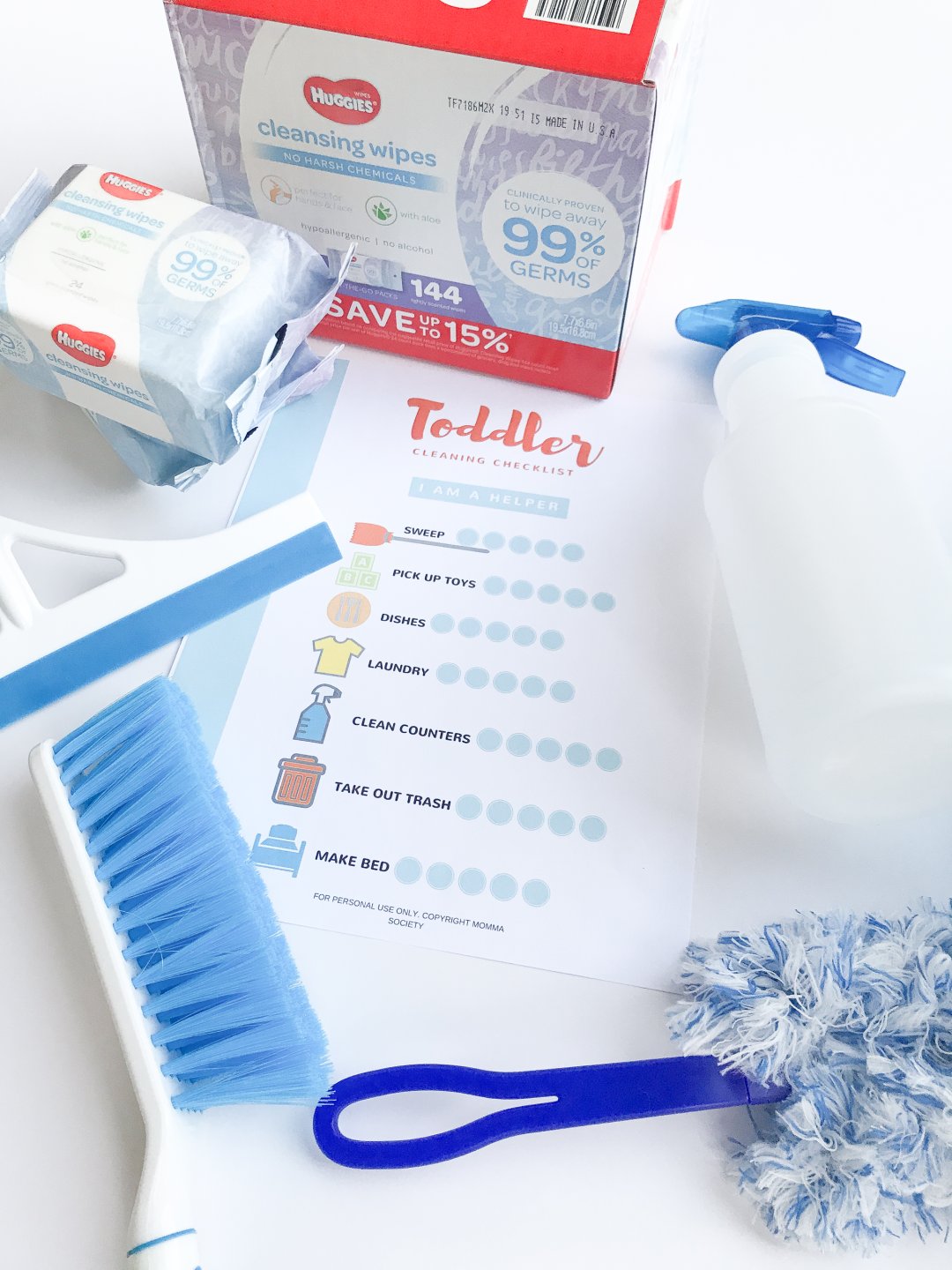 Psst--Hover over the photo to shop Huggies® Cleansing® Wipes on Samsclub.com to clean up the messes at your home.
2. Give them their own gear.
We went to the store a few weeks ago and picked up a bucket and Brody's own cleaning gear. A duster, a dustpan and broom, a spray bottle and a few other cleaning items fill his bucket. Since we wanted to make sure that his cleaners and cleaning gear were free of chemicals and did not get mixed up with our adult cleaners, we color coded all of his gear.
To keep the cleaners toddler friendly, we have been using water based products. Since I use a lot of wipes to wipe down surfaces, we loaded his basket with Huggies® Cleansing® Wipes from Sam's Club. PS- I am loving Sam's Club's pick-up service when I have two little ones in tow! These wipes are alcohol free, fragrance free and paraben free, so I do not have to worry about Brody using them. They also have EZ Pull® dispensing so only one wipe comes out a time—obviously an important feature when toddlers are involved. The wipes and a water-filled spray bottle are the only two liquids I let Brody use when cleaning.
3. Make it fun.
I try to make our cleaning sessions a fun activity. Let's face it, some days it is the only activity we do around the house. To set a fun mood, we start by putting on some dancing tunes. For the dishes, I throw in extra soap for more bubbles. For the toys, we make it a competition of who can put the most toys back in the basket the quickest. I dread cleaning, so these little bits of excitement even make it fun for me to partake in.
4. Use a chart.
We are trying to teach Brody the basics of responsibility. One way we have been helping him understand what we expect from him is using a chore chart. I created a little chart we hang on our fridge with different tasks he can help with listed out. There is a picture next to the word, so he can identify the task as well. At two and a half, we dictate what chores he will be helping with each day, but as he starts to get the hang of it we will have him start checking off the check boxes next to the jobs every night. Coloring in the little circle next to the task just might be his favorite thing ever.
This is how we have been tackling the cleaning around our house. Who knew cleaning could be so fun with a toddler involved!
What are your tips for starting chores at a young age? What are your little one's favorite cleaning activities to help with?