The Busy Mom's Grocery Shopping Hacks with BJ's Wholesale Club
Between pre-packing lunch boxes to getting dinner on the table for the four of us, I feel like I'm running out to the grocery store once a day. But with Isla still in diapers and Brody starting preschool, a run to the corner market doesn't cut it anymore!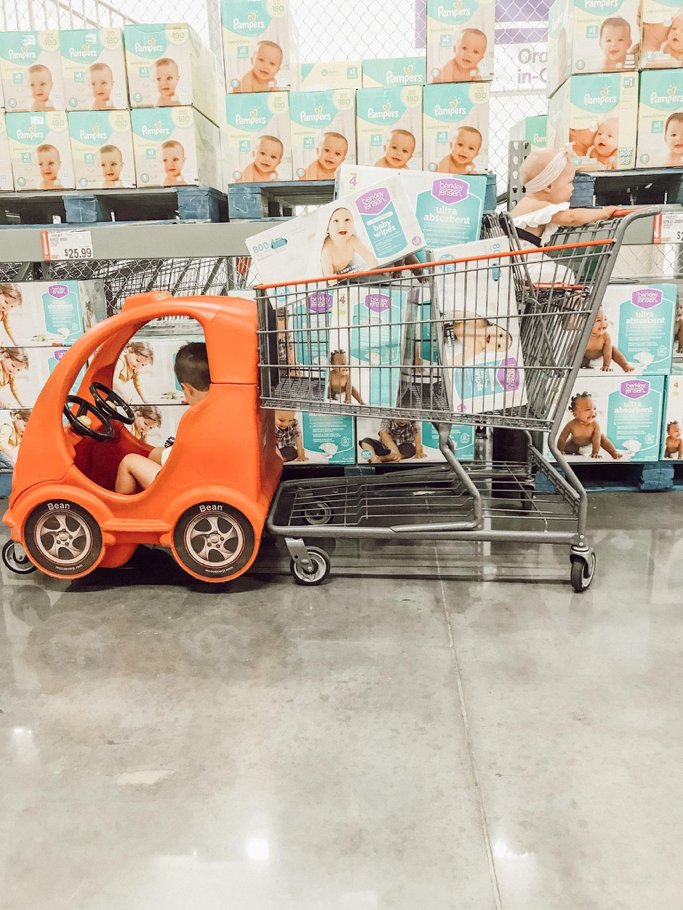 I've started shopping at BJ's Wholesale Club because I can get our groceries and baby items all at the same time. Even better than that is that I can buy items at everyday low prices in bulk, like our produce or milk for Brody. I only have to make one big grocery run each week instead of three or four trips at multiple locations to get everything that we need. Anything to save a little time these days!
Making the Switch From the Traditional Grocery Store
Shopping at BJ's makes everything so much easier. The store has an incredible selection of food and baby items and I never feel like I have a limited choice on anything. It can be tough to put together a weekly menu for two adults, a toddler, and a new solid food eater. I love that BJ's is stocked like my favorite grocery stores and I know everything will be fresh and high quality. Plus, only making one stop for everything can be such a lifesaver – less time running errands in the car means happier kiddos!

Value + Quality = One Happy Momma
BJ's exclusive Berkley Jensen brand offers the best value and assortment . Recently, I found the Berkley Jensen Baby Wipes and Berkley Jensen Ultra Absorbent Diapers and I am obsessed! Honestly, I can't tell the difference between the Berkley Jensen's and the leading brands, but they're a fraction of the cost! Same quality for a better price and backed by a 100% money back guarantee? Sign me up!
I used to run out of the house at all hours to pick up wipe refills but thanks to our trips to BJ's, I'm totally stocked up until our next trip! I'm juggling so many things during the day, so it's really nice to have one less thing to worry about. Especially when that thing involves diaper emergencies at 2am.
Making the most out of your BJ's Membership
BJ's Wholesale Club is all about great products at great prices, so you get more and you save more. I'm really excited to be partnering with BJ's because I get to pass even more savings on to y'all! BJ's has created a special link for Momma Society readers so that you can earn a free $25 gift card by signing up for a membership! Even better is that at BJ's, your $25 goes further than it might at another wholesale or club store.
I want you to get the most out of your BJ's shopping experience, and I have a few tips on how to maximize your membership!
1. Gas up before you go! Did you know that most BJ's also have a gas station where you can fill up for way less than the corner gas station? Not only can you get your groceries and baby products at the same time, but also you can also gas up too. One stop shop to check your whole to-do list off at once.
2. Snooze before you shop. I know it can be tough to keep your kids happy while you shop, so I always try to go after nap time when Isla seems to be in the best mood. I'll also give Brody small jobs to do while we're at the store, which keeps him involved and entertained. And let's be honest, the racecar carts are quite a hit.
3. Click, Clip, and Save. If you don't have time to shop, members can actually shop online and pick their order up in store! I love this option for if one of the kids is sick or we're on a really tight schedule but need to get the shopping in. This is also an amazing feature for postpartum when life can be a bit chaotic. BJ's also accepts manufacturer's coupons, so you can save even more when you shop!
Momma Society + BJ's Wholesale Club



I was selected for this opportunity as a member of CLEVER and the content and opinions expressed here are all my own.